Lisa's Journey
It seems that all of my life, I have had an insatiable yearning for union with God. Even now, as I write the words, I cannot catch my breath. In what ways would my life have to change? Could I ever trust enough to let go of control and the need to "get it right"? I do not know. But what I do know is this: God's love is big enough to include all of me, whether light or shadow. And I have discerned that communing with Spirit is vastly more intimate when I am vulnerable and real.
In school I was drawn to art. The beauty of particular works beckoned me. The process of creating gave me time to muse over thoughts. Visual art was a way to express all that was going on inside of me. I sensed a pull to give my life to God, but when I looked around within my own faith tradition, I did not see anyone doing anything vocationally that remotely resembled who I was at heart. Although a couple of ministers suggested seminary, because it seemed that God was calling me into vocational ministry, I chose to study what I enjoyed, art.
At some point during my Fine Arts training, I realized that it was indeed about the message and a way to reveal this Great Mystery and the One who is more personal than we are to ourselves. Later I was able to determine that it would not be about visual art, per se, but rather about journeying with God and pioneering new manifestations of knowing God, within the local church…and without.
Through the visual arts, I experienced God while I pushed through the process of thinking that I had lost a painting or project, to recapturing it in a richer way than I had imagined. During these repeated frustrating attempts, Spirit showed me that like the painting or project, the fuller life is found only by slogging through the murky places to the other side. I suppose that today, I would go as far as to say that truer life, comes through all of the little deaths, burials and finally, resurrections.
Visual art turned to dance and dance quickly turned to a Fitness Ministry. I still recall the phenomenon of worshipping God through my physical body, while leading others in fitness. Today, sitting in my Living Prayer Room, I think back on the physical worship in my then sanctuary, the dance floor. I recall how I experienced God in my physical worship and I listen in wonderment as directees describe how God communicates to them through their bodies. It is amazing, living in our western world, to actually see someone open up to anything other than words or proven logic. Although God is orderly, mystical moments with God cannot solely be contained in the concrete or the tried and true.
In a dramatic way, at the age of forty, I sensed God calling me out of Fitness Ministry, but to what? The timing of my leaving seemed abrupt, but Spirit was wooing me to deeper places. It was during the next nine years that I experienced deep loneliness in the dark that eventually became my cherished place of solitude. Father, as the vinedresser, was silent as He pruned away the rubbish. In hindsight, it seems that God was lovingly pulling up my firmly gripped roots, so that I would be ready for a move, spawned by my husband's ministry/career, and my next assignment. Those were days of waiting in excruciating labor, but a passion was born that later caused me to count that time as dear and treasured. In 2004 I began leading through that newly birthed passion, considering the questions: Who am I? And why am I here? Through teaching, facilitating workshops and coaching individuals, I worked with people, helping them find purpose. In coaching sessions, I assisted well over 1,000 men and women in finding out more about their God created design. It was in listening to so many people and their heart wrenching stories that I discovered that very few had safe places to share honestly or at any significant depth. Somewhere during the many one on one coaching sessions, it became clear that providing a sacred space of deep listening was not only where God was leading me, but where my true self was finding a strong heartbeat.
My Spirit led journey through these ministries, and now in completing Spiritual Direction training, is leading me home. Life is all about returning home to the Sacred within. The journey seems to lead us to find a temporary resident in this purpose or that, and then beyond into being. If in reading my story, you discover that you, too, are journeying home to your true, God created self, I want to be available to you. Look inside, no matter how fearsome it might be. There is no other journey quite like your own, for the Sacred is right there within.
For Spiritual Direction in person, by phone or Skype, contact Lisa at lisa@SacredWithin.Us.
"Could I ever trust enough to let go of control and the need to "get it right"? I do not know. But what I do know is this: God's love is big enough to include all of me, whether light or shadow."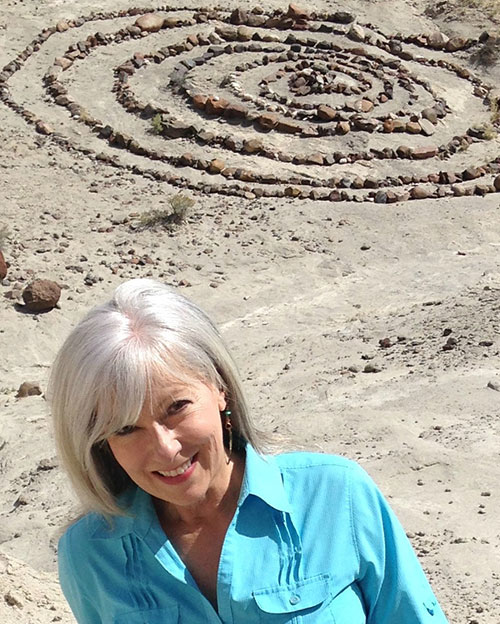 "Life is all about returning home to the Sacred within. The journey seems to lead us to find a temporary residence in this purpose or that, and then beyond into being."